Don't Bank-sy on Trade marks: Banksy loses EU trade mark due to "bad faith"
Banksy's trade mark for one of his most famous artistic designs has been declared invalid by the European Union Intellectual Property Office (the "EUIPO") on the grounds that it was filed in bad faith. The EUIPO finding him having engaged in "inconsistent with honest practices" in his attempt to protect his trade mark. A full copy of the decision can be found here.
The EUIPO said Banksy was attempting to use trade mark law to protect his artwork from being used commercially by third-parties because he couldn't copyright it and maintain his anonymity. This decision highlights that the court will take a dim view of anyone – even famous artists – attempting to find a loophole in the law.
Background
The disputed trade mark was Banksy's "flower bomber" image, in which a protester is throwing a bunch of flowers (see below). It was originally graffiti painted onto the side of a garage in Jerusalem in 2005.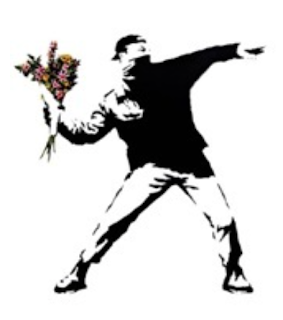 Banksy's company applied for a trade mark for the "flower bomber" image in in 2014. However, under EU law, the trade mark needed to be used as such within the first five years. Otherwise, it was susceptible to being removed on the basis of non-use. Unfortunately for the artist, Banksy had not sold any merchandise or other items by reference to the trade mark until Full Colour Black, a greetings card company, challenged the trade mark in 2019. In response to the challenge, Banksy set up a store he said was specifically opened to get around the fact he had not used the trade mark commercially, as required.
Legal Analysis
The EUIPO concluded Banksy's trade mark was registered in "bad faith" as it was "clear that Banksy did not have any intention" of using the trade mark when he filed it. Any goods he sold were created solely for the purpose of not losing the trade mark. This was even stated by Banksy himself when he opened his store. The store was not open to the public; customers could look through the window and buy items online after a careful vetting process to make sure they were not going to resell the items.
The EUIPO also focused on Banksy's distain for copyright law: the artist has famously declared that "copyright is for losers", and previously invited the general public to download and use his images as long as it was not for a commercial purpose. While the court did not take his view on copyright into account, it did note that to get copyright protection Banksy would have needed to lose his anonymity. In contrast, any entity hiding behind the corporate veil can file a trade mark, which lasts forever as long as it is used.
As Banksy did not create the trade mark to use as a business asset, the EUIPO declared it invalid.
Conclusion
The EUIPO was not impressed with Banksy's attempt to use trade marks to protect his art, with a rather generous finding of "bad faith". Perhaps more interesting than the legal conclusion are the passing comments made by the EUIPO regarding copyright. The EUIPO questioned whether Banksy's work was even deserving of copyright protection, as it was originally graffiti painted without the permission of the owner of the wall. This suggests that legal art is worthy of protection whereas illegal art is not, although the comment was not added upon.
The EUIPO also spent some time considering Banksy's views on copyright, though it did conclude that these should make no difference in its decision. Copyright owners worried about putting their foot in their mouths need not necessarily worry: the law will still offer protection.
Full Colour Black has challenged the trade marks of six more of Banksy's works, and is likely to contest more. With Banksy's trade mark portfolio now at risk, it will certainly be interesting to find out what will happen next for everyone's favourite anonymous artist.
By Simon Casinader and Ravena Guron