Are Valentino's Rockstud® Shoes as Distinctive as the Red Soles?
Has Valentino stepped up enough to show that their Rockstud® design has acquired distinctiveness similar to Christian Louboutin's red soles? In a recent response to a USPTO office action, Valentino asserted similar notoriety in its Rockstud® design as Louboutin's red soles.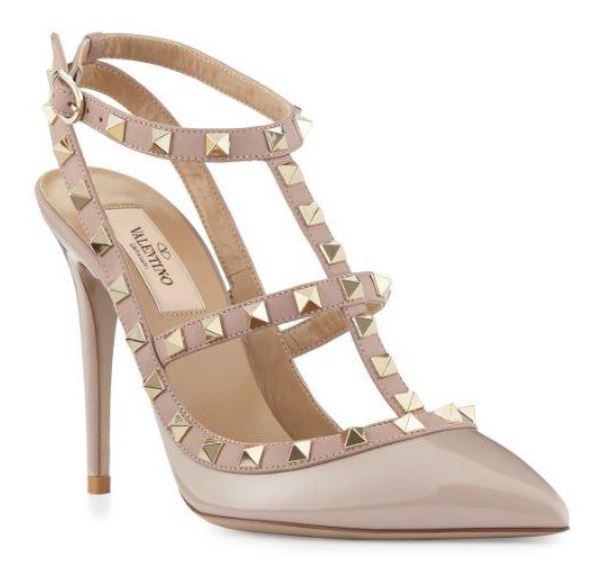 Valentino applied for three different trademarks featuring the design of their Rockstud® shoes (U.S. App. Serial Nos. 88/672,186; 88/672/019; and 88/672,225). This design consists of a shoe with a single ankle strap, and T-strap and collar, which are adorned with pyramid shaped studs. The USPTO refused all three applications as non-distinctive product design and merely ornamental features.
Non-distinctive product design or features are not registrable as trademarks because they do not function as a trademark to indicate source. However, if a brand owner can show its product design acquired distinctiveness and the public associates the mark with a particular brand, then the mark can function as a trademark and be registered.
The three basic types of evidence to show acquired distinctiveness are 1) prior registrations of the mark on similar goods, 2) five years prior use of the mark, and 3) "other evidence," such as long term use of the mark, advertising expenses, declarations that assert recognition of the mark as a source indicator, survey evidence, market research and consumer reaction studies.
In Valentino's initial application, they provided the second type of evidence — a declaration noting exclusive and continuous use of the mark for five consecutive years prior to the application. In response to a February 2020 refusal based on nondistinctive product design, and merely ornamental feature of the product, Valentino responded with arguments of acquired distinctiveness, and over 200 pages of "other evidence."
This other evidence included Valentino's long term use of the mark, including that these shoes have been a mainstay in stores for over a decade; millions invested in marketing and advertising the shoe; and its extreme profitability for the brand as its revenues doubled within five years since introducing the Rockstud shoes. Valentino also highlights that the Rockstud shoes have been featured on numerous celebrities, and have been the subject of extensive press and media coverage, making them well known to the purchasing public.
In addition to this evidence, Valentino also argues that if Christian Louboutin's red soles have acquired distinctiveness, so have their Rockstud® shoes. Valentino references the Second Circuit decision, Christian Louboutin S.A. v. Yves Saint Laurent Am. Holdings, Inc., 696 F.3d 206, 226 (2d Cir. 2012), where the court held Christain Louboutin had demonstrated evidence that the purchasing public associated the red soles with Louboutin. The evidence provided by Louboutin consisted of "extensive evidence of Louboutin's advertising expenditures, media coverage, and sales success." Valentino then argues that due to the similar success of the Rockstud pump as compared to Louboutin, Valentino's mark has acquired distinctiveness and is similarly a signal to the consumer that the source is Valentino.
Valentino hopes that stepping into another brand's shoes will help prove acquired distinctiveness in its iconic Rockstud® shoe. While we will have to wait and see whether the USPTO agrees with Valentino, these applications illustrate the importance of the types of evidence required to prove acquired distinctiveness for design marks.
Brand owners: keep your records advertising expenditures, media coverage, sales success, and length of time the mark has been used. Necessary evidence to prove up acquired distinctiveness in what may become not just an iconic design, but your exclusive brand identifier.
By Susan Kayser and Terrance Roberts